---
introducing modal: your new favorite fabric
building your work capsule wardrobe
casual work outfits for the minimalist woman
Stay in the know. Sign up below to receive updates on everything ADAY.
Casual Work Outfits for the Minimalist Woman
Today, we want our wardrobes to do more for us - to be as versatile as we are. We don't just want a work uniform - we want an everyday and everywhere uniform. By paring our closets down, we can create capsule wardrobes that give us outfit flexibility, even when it comes to our work wardrobe.
Whether it be a formal or a casual occasion, consider the blazer for ultimate outfit versatility. There is so much to love about this wardrobe essential, from the sheer amount of silhouette options and materials to pick from to the amount of style inspiration you can take from the trailblazing women pioneering workwear that you can take as style inspiration.
Keep reading to learn exactly why we're so enamored by the blazer and the suiting it quite often (but not always) accompanies. We also lay out some easy guidelines to help you find the perfect blazer to add to your work capsule wardrobe.
Women's suits gained traction as women entered the rapidly changing workforce in the 1920s, a prolific decade for women's rights. At the same time women were making waves in their workplaces and in society, they were also making changes to their clothing.
Women left a confining dress code of corsets and frills at home. Cue then the emergence of the suffragette suit, and soon after, designer Coco Chanel's glamorous step into the scene. Chanel said "nothing is more beautiful than the freedom of the body," and she designed with this ethos. She introduced her first suit into society. Soon after, Chanel's two-piece inspired the fashion world to design pantsuits for women and the progression of the women's suit was well on its way.
With time, women's suiting acquired even more personalities and meaning. Women gave it a casual spin, donning boyfriend blazers with ripped jeans. They took it to politics - in 1993, women in the Senate began wearing pantsuits and squashed the unspoken rule that women should not wear pants on the Senate floor. Women even brought suiting to pop culture, from celebrities sporting iconic pantsuits on the red carpet to the hot pink suit causing its own social uproar during the 2016 elections.
Though we are not obligated to wear a suit anymore, we still do, and we do so with style and in the empowering wake that lingers of women who trailblazed in suiting before us. This article of clothing has walked the path of history, whether it be suffragette suit or designer couture, political symbol or red carpet glam.
If we've convinced you to suit up, then here are some tips and tricks to keep in mind when picking out a blazer - an essential and versatile part of your suiting that does not need to be relegated to only the formal occasions in your life.
Blazer options today involve boyfriend, cropped, straight, and belted styles, among others. Choosing the fit that works for you ultimately boils down to your personal preference, but it also can be important to maximize how many other items in your closet your blazer can work with.
For example, if most of your work outfits involve formal trousers or longer skirts, a cropped cut blazer may be your most versatile bet. If your work outfits swing more casual, even often involving jeans, consider an oversized boyfriend blazer.
And if you really can't decide between fits, then we would suggest a blazer that gives you options, like the Trailblazer Belted Blazer. Wear it loose and unbelted with a tucked shirt, or use the belt to accentuate your form.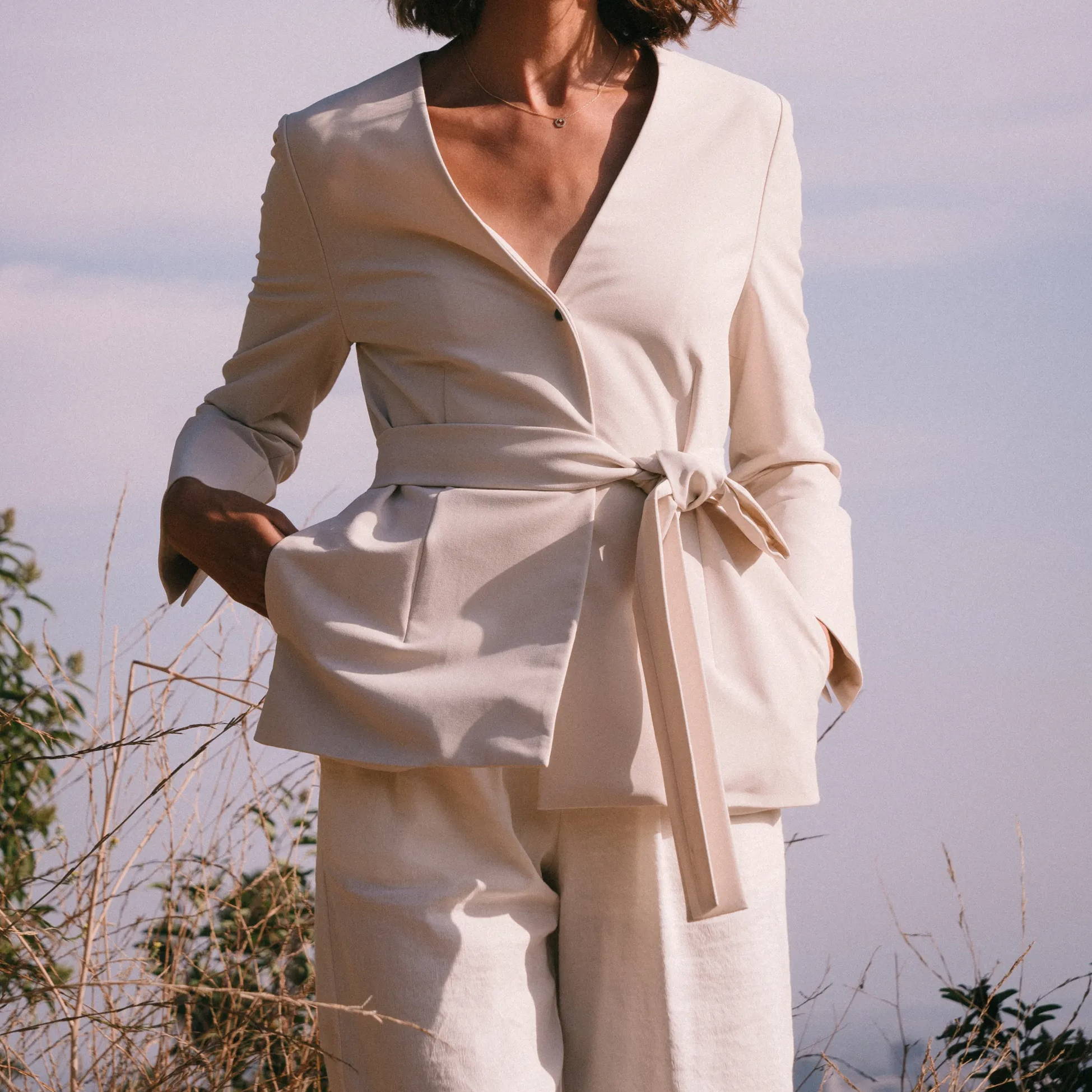 Materials are important on many levels. You and your blazer need to be suited for your environment. Consider lined blazers in thicker materials if you live in a cold environment (or a cold office - we've all been there!), or consider a blazer that functions more as a light shell if you live in sunnier or more humid environments.
It's important to think about the comfort of the material itself. Where before we may have settled for a slightly too stiff, slightly too scratchy jacket, it's time to raise the bar and ask our suiting to match the comfort of our work-from-home wear. We love wearing this blazer on our commutes - especially our post-work commutes to happy hour. It has a 4-way stretch you'll want to do cartwheels in as well as moisture-wicking properties that make it extremely breathable at every temperature.
Also consider your blazer material from a practical perspective. Does it require dry cleaning? If the environmental price is important to you, ask questions about where and how the material is sourced.
If you prefer to opt out of dry cleaning altogether, our suiting is completely machine washable and hang dry. We also incorporate vegan and recycled materials (check the Fabric & Care section for material specifics) and we use facilities powered by renewable energy to make all of our suiting - from our Strategy Blazer to our Power Suit Belted Jumpsuit.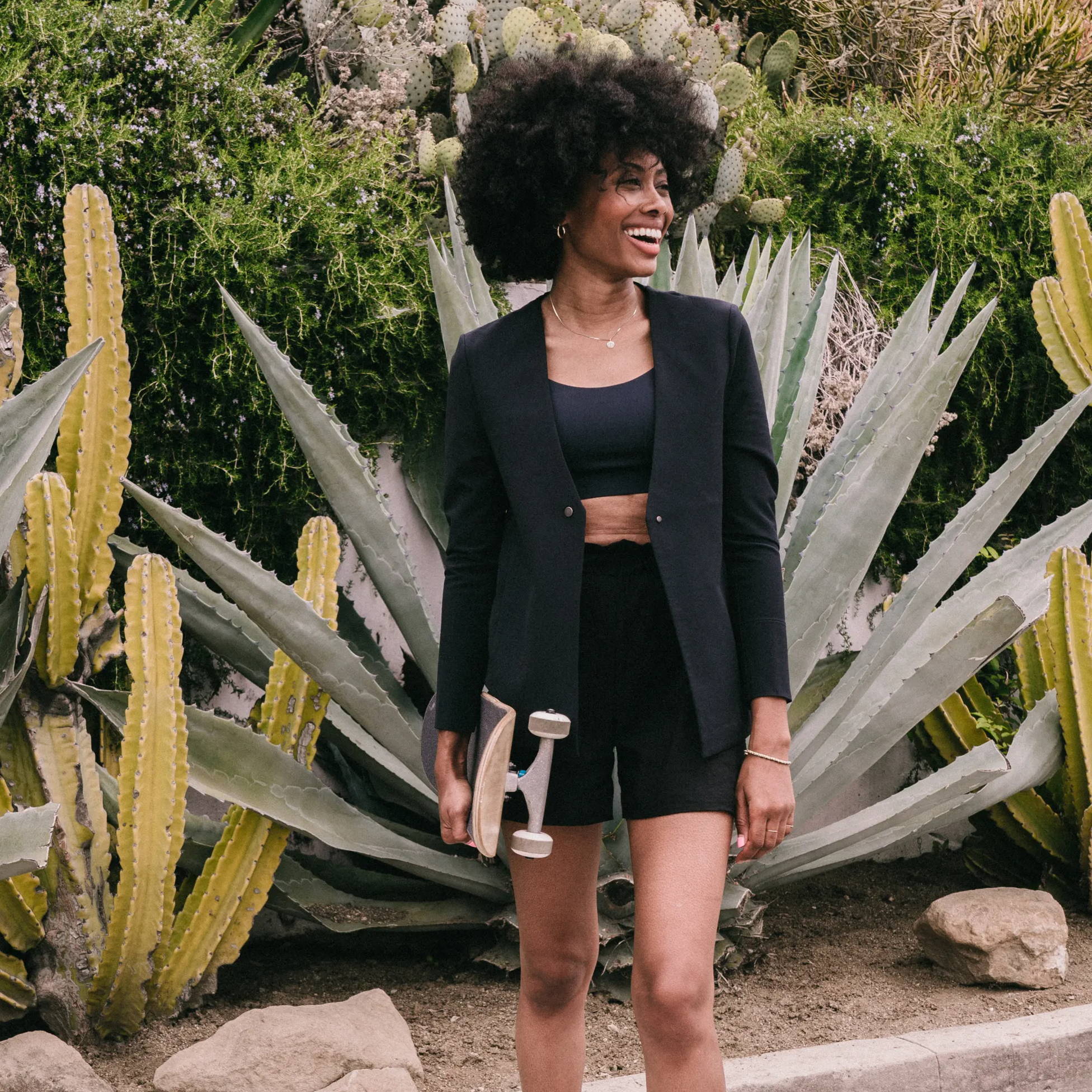 Finally, consider the colors you want for your blazer. Like we noted for your summer capsule wardrobe, keep in mind that eclectic colors may be more limiting to your overall outfit combinations. That shouldn't stop you from incorporating a colorful twist into your wardrobe as your statement or signature piece, though. Just think of it as the extra 'flavor' kick in your capsule wardrobe.
Complete Your Workwear Wardrobe
Whether it be a boyfriend, cropped, or belted style, we hope your blazer ultimately inspires and empowers you. While you're thinking about your work capsule wardrobe, consider completing your look with these other pieces:
How to carbon offset your flight